Run Baby, Run!
Today was day 2 of the Salmon Days festival, which also meant that today was the race! It was this one.
Phoebe had joined the running club at school with the notion that running would help her be ready for basketball season. After only one group run, she decided she loved it and wanted to do a race. This one was coming up very quickly (and it was fairly close), in fact the last day of online registration was the first day of running club!
I chose the Kid's Dash 1K for her for this first outing. Several reason led to that. First, she only ran one mile on Thursday and hadn't been running distance prior to that. Second, we wouldn't be able to see much of the course at all for the 5K (and let's not even talk about the 10K).

She LOVED it! It was fast and over too quickly as far as she was concerned and she wanted to run it again, right then. Personally, I am so proud of her for even trying it out and I love that she loved it and was so happy. At the end, she received dog tags indicating she was a race finisher.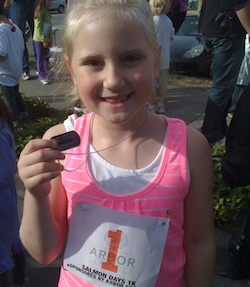 Oh, and let's not forget the race shirt! She wore it to school the next day which made me glad that she kept with the bright pink–it made it so easy to spot her in the crowd!
She now has her eye set on the 5K next year. That's a long way off, but if she really does like this whole "running thing" long term, it'll be easy and a blast for her (and us)!
Posted: October 3rd, 2011 under Kids, Photos, School, Sports.