Basketball!
Basketball kicked off today for Phoebe. She is so very happy to get to do something she loved back home. (I think she'd rather do dance, but, at least this is a start…)
The way it works here is they have a giant group practice for a few weeks. The teams are set up by school, but some schools are combined while some have more than one team. It all depends on the number of players. It's also a time where they attempt to recruit additional coaches while the kids are doing some skill drills.
It was really great to see such a big and thriving program. Back home, there were only enough girls to make three teams and that was combined first and second grade. Here, they divided the group practice in to two groups. Phoebe's had over a hundred girls … all second grade!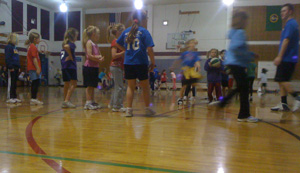 Phoebe in line for one of the drills they were doing (wearing her pink soccer top and black basketball shorts)…waiting patiently.
Moving so fast dribbling the ball that the camera in my iPhone only barely caught her blue and black blur! Next week, I'll be bringing my actual camera!
All in all, she had a great time. She recognized a few girls from her school. She really hasn't done any practicing in a very long time and did well despite that. Overall, it was a good morning for her! You know, except for that having to get up on a Saturday morning part.