Field Trip Day
Today, I chaperoned Phoebe's class field trip to one of the nearby nature centers. The bus was VERY loud, but I suppose it could have been much louder or very rowdy. (These were first graders, after all.)
Once the bus arrived at the nature center, the two classes split up. Our class did the inside presentation first before hiking to the pond for the pond study portion (the other class did the opposite).
The kids were giddy when our guide brought out a turtle and let it run around within the seated circle of kids. I'm not sure they heard anything she said at that point.
Out at the pond, the kids were given nets and our smaller groups split up between the several docks. Their mission was to scoop into the pond with the nets and see what pond life they managed to capture. Everything was put into pans of water so that everyone could see them.
Once the scooping was done, the groups looked at each pan in turn while our guide pointed out nifty things to them. It's always amazing that the same kids that squeal and screech at most bugs and such were very focused on finding creatures and checking them out!
Phoebe wished she had more time to check out this pan: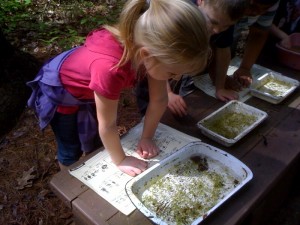 Afterwards, we hiked back to the building, got washed up and had a picnic lunch before boarding the buses to head back to school.
It was a fun, but quite HOT morning!