Busy, Busy Saturday
Saturday was a super busy day for us.
Phoebe had her VERY. FIRST. basketball game EVER! She did really well and had a goofy, "I'm LOVING this" grin most of the time! There are only three teams in that age group, so what they've done is they have a skill building station set up for the first 45 minutes, then the last 45 minutes they play scrimmages. She had a great time!
Shuffling warm-ups: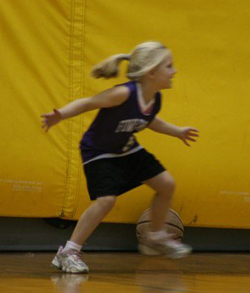 Dribbling: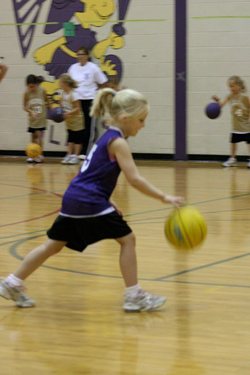 On guard: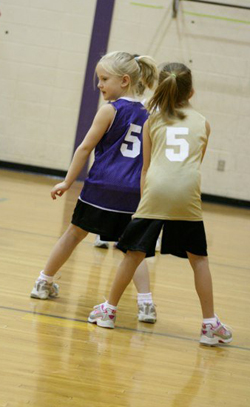 Sadly, we had to leave the game at the halfway point…. Yes, we left the nice warm gym to head over to the overly frigid, nasty weathered soccer field. I will admit that if this hadn't been her very last game of the season (with awards and such following), we would have skipped it in leiu of the warm gym!
Despite the weather being what it was, Phoebe played one of her best games ever. I wonder if all the basketball activity served as a stellar warm up for soccer?
She rocked as goalie: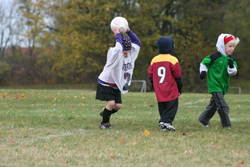 Her dribbling and ball handling was fantastic: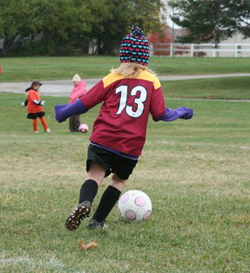 I'm kind of sad soccer is over now. NOT for the weather, mind you, oh gosh, the weather was getting worse and worse every week. What I'm sad about was the leaps and bounds she made by the end, it would be great to continue for a little bit longer rather than waiting almost six months for the spring season to start (assuming she even wants to at that point).
After soccer was over, Alex had theatre rehearsals.
When rehearsals were over for the day, we picked Alex up and started to head over to Ray's uncle Lee's for his Halloween party (we haven't seen him in ages!). Along the way, we had some "technical difficulties" wherein a tire on the car had decided to obtain a hole in the side wall. Fortunately, Belle Tire was open still (it was fifteen minutes before close), but they happily took us in. Thank goodness for the road hazard coverage and a new tire only cost us the amount to get the road hazard coverage on it ($11.66)! They rock!
After the tire on the car was fixed, we were once again on our way. We had a great time! It was wonderful to see family that we haven't seen in nearly forever and to meet a few new people, including Lee's girlfriend Vicki (who is a sweetheart!). Phoebe and her little cousin played pretty much they entire time they were there, but both thought it was crazy that they were cousins! The cutie-pies!
Waiting for the pinata fun to begin, the kids poked it with glow sticks and such. Phoebe is trying to put the treat bag on its tail for some reason: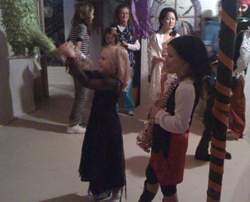 It was a great day, but super busy and we were all exhausted by the end!
Posted: October 27th, 2009 under Family Events, Husband, Kids, Misc., Photos, Sports.