Happy Halloween!!!
I hope that everyone had a safe and fun Halloween!
We started our day normally for a Friday. Alex went to school and Phoebe and I went to playgroup (she doesn't have school on Fridays).
At playgroup, we carved pumpkins. Rather, the moms carved pumpkins while the kids ran around and played. We had a great time and were amazed at how relaxing pumpkin carving can actually be! I'll have to remember that for next year. "Moms day in… pumpkin carving!" Could be big! Huge!
After playgroup we went home. I was starting to not feel well so I took a nap. I wish the kids would have as well, but alas, no. Ray got home and we all got ready to go and left for our cousins' place. We go there every year for the kids to go trick or treating.
Phoebe went as an "elegant witch."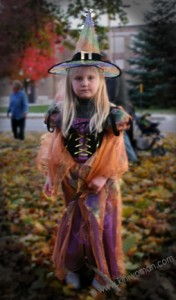 The big girls went off on their own and eventually met up with other friends and returned at some point before trick or treating was over.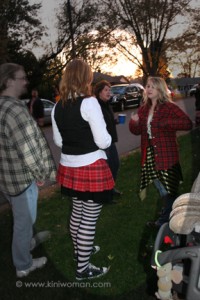 Ray and I took Phoebe, Kenny and another girl and her mom around trick or treating. It was fun. The weather was phenomenal! We didn't go terribly far and Phoebe was looking very tired. It wasn't long before she was done and I took her back to the house. Not far behind us came Ray and Kenny back too.
All in all they had a pretty good time. A little while after all the trick or treating was over, we adults ditched all the kids (the teenagers watching the little ones) and went to see a band at a bar nearby. It was a lot of fun (despite that Ray and I left early because I was rapidly feeling worse all evening!)!
I hope you had a great Halloween!!!
Posted: October 31st, 2008 under Family Events, Kids, Misc., Photos.