Volleyball Tournament, Day 1
Today the girls all played volleyball and did their scheduled officiating duties.
Last night, Alex drifted off to sleep easily, though a little later than she should have. Phoebe, on the other hand, I think was so excited and wound up just to be there, could not fall asleep.
This morning, I got up around 5:30 am to shower and get ready to go. Then I got the girls up so they could get dressed. Then all three of us went down for breakfast (yay free hotel breakfast!) while Ray showered and got ready. Alex had a selection of things such as fruit, some milk, a bagel, and a bite of a muffin. She took hers back up to the room to veg a bit. Phoebe had half of a cheese omelet, half a cinnamon roll, a couple slices of bacon, and some orange juice. She ate like we starve her or something!
After breakfast we all left the hotel and headed over to the tournament site for today. It was pretty nice place held at the field house at Grand Rapids Community College. The girls had to officiate as their first task of the day.
Alex awards a point to one of the teams:

Phoebe has been part of the team today. She sat on the bench with them and at the scoring table during their officiating times. It's nice that all the girls (and especially the coach) just seem to love her!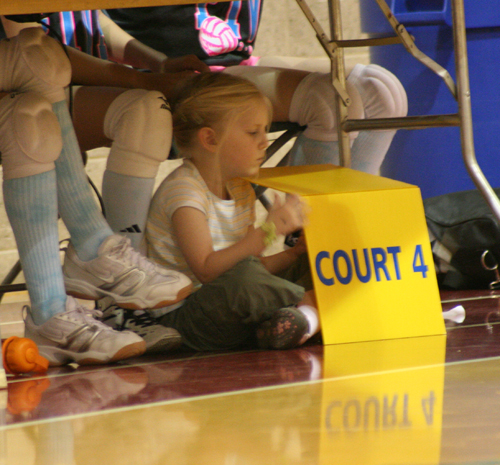 Alex makes a pass during one of their three matches: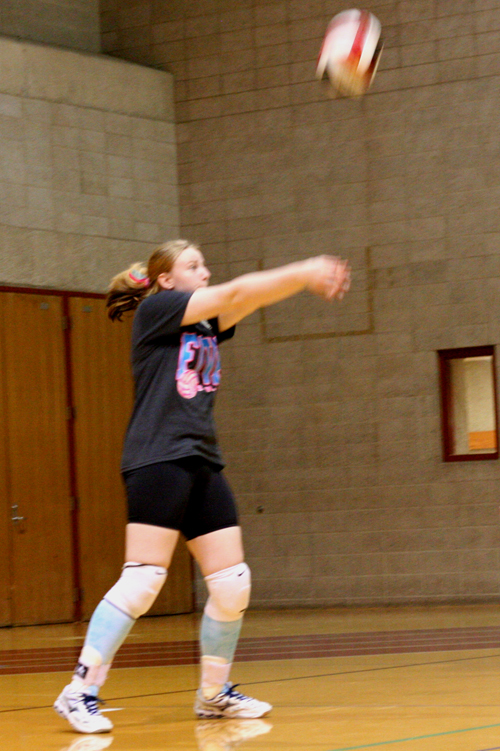 The girls played in three matches total today. When they finished up for the day around 1:30pm, we all went back to the hotel and they swam for what seemed like forever.
We had "dinner" at Chuck E Cheese (did you know they actually have good pizza? neither did we!). EVERYONE had a great time. Though I didn't take many photos here, here's one: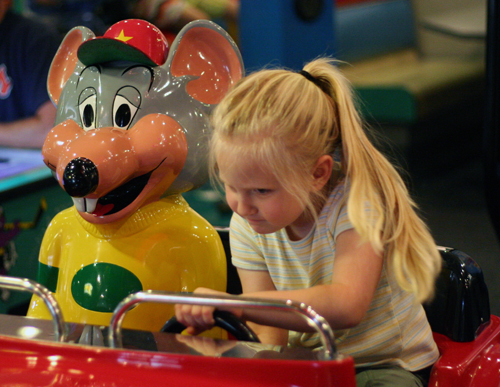 After returning to the hotel, the girls swam again for a while then just hung out together
The girls all went to bed on the way too late side tonight. I hope the morning doesn't come too quickly for them!